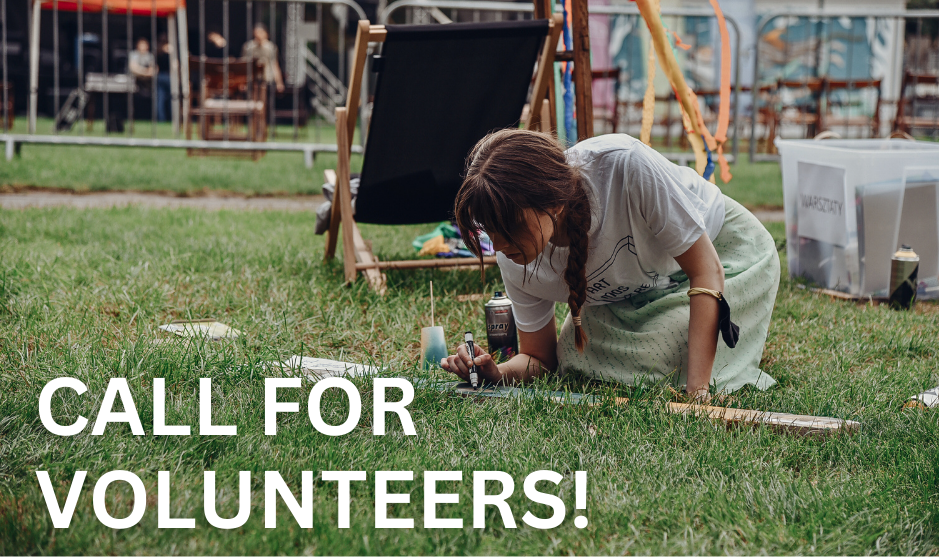 APPLY FOR INTEGRART
We are currently looking for participants for the next edition of the IntegrART.
The IntegrART is an European Solidarity Corps long-term individual volunteering project in the field of culture and creativity. By joining the project, you will have a chance to work in cultural or educational institution and prepare your own activities benefiting the local community.
WHEN: 01st October 2023 – 30th September 2024
WHERE: Kraków, Poland
WHAT: We have 1 vacancy in big cultural center, 4 vacancies in local cultural clubs and 1 vacancy in the high school. Participant will work full time (30-35 hours a week) in one of the hosting organizations. We offer an accommodation in the city center of Kraków, food & pocket money, reimbursement of travel costs and local transportation, insurance, trainings and all support needed.
WHO: We are looking for 6 people, 18-30 years old, EU or Ukrainian citizens. We will be happy to cooperate with motivated people who are ready to work creatively by co-organizing with us an offer of artistic, ecological and international cultural events for the local community. This is a project for those who want to make a difference and experience a once in a lifetime unique adventure. Various talents, hobbies, interests (and willingness to share it with others) are always welcome!
INFOPACK:
Get our INFOPACK to learn more about the project and hosting organizations.
HOW TO APPLY?
• Register on European Youth Portal and apply directly to our offer
• Fulfill our Application Form and send it with your CV on esc@dworek.eu
• Selected candidates will be asked for a video-call interview with project coordinator. The project coordinator will match candidates with the hosting organization. Candidates can also suggest their preference in the application form.
• The last part of the recruitment process in the video-call with the work coordinator from a matching hosting organization. She/he will make the final decision on accepting the volunteer to the project in the organization.
FAQ ON THE RECRUITMENT PROJECT
What is the application deadline?
The application deadline is always specified in our offer on the European Youth Portal. But the sooner you apply, the better. Don't wait for a deadline. Once we find the right person for the hosting organization, we accept them and complete the recruitment process. We only have 6 vacancies.
My country is not listed in your offer and I cannot send my application. Can I apply anyway by sending a CV and application form via email?
You can apply only if your country is listed in our offer. Applications received only by e-mail are not taken into account.
In the offer, there are very specific dates of arriving and departing. Can I join the project on other dates?
You can join the project only on the dates described in the offer. Unfortunately, we cannot adjust the dates to your preferences. We are looking for people motivated to stay with us for the whole project (12 months).
I would like to join the project but I am a student and I have a few online classes a week. Can I apply for the project?
During the project we expect the volunteers to be at work for 30-35 hours a week. Unfortunately, we cannot adjust your working schedule to your preference or availability and we cannot accept taking online classes during worktime. We are looking for people whom the project is a priority and who will use a chance take the most of it.
Do I need a Sending Organization to apply?
You do not need a Sending Organization at the moment of application. If you are selected for the project, you can ask us for help with finding a sending organization for you, or you can choose the one you want to work with.
I would really like to participate in this project. Any advice on how to prepare better for the recruitment process?
Our project is very popular and we get many applications. If you would like to increase your chances of participating in the project:
Try to get to know us well: check out our website, Infopack, see what previous volunteers have done with us. Check out our hosting organizations and choose the one that suits you best.
Prepare carefully full and readable documents in English: your CV and application form. Please note that we do not accept incomplete applications without an application form.
During the interview, show us what you are good at and what you would like to do in our project. Be honest about yourself – remember that, we do not expect great professional experience, but motivation, commitment, enthusiasm and openness to creative work.
Don't delay – we are looking for motivated and communicative people
If you are not sure how to prepare your application documents well, you can ask for support from the Sending Organization in your country.
If you perceive yourself as a person with fewer opportunities (physical, social, economic, educational or other) – do not be afraid to participate in the recruitment process. We encourage you to try it. In the application form you will find a place to describe your situation.
If you have any questions regarding the recruitment process, please contact coordinator Weronika Ciągała (esc@dworek.eu).
This
project is financed by the European Solidarity Corps programme.